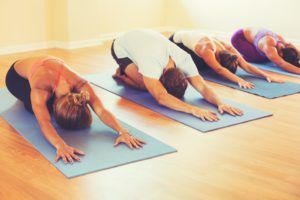 Hormones are a major foundation of the cellular functions inside the body. Though unseen and often overlooked, hormones must maintain a careful balance to avoid causing health complications. Even the slightest disruption in hormone balance can have major consequences in the body. Though this can happen to anyone at any age, hormone changes are especially common with age. Our goal is to diagnose and treat male and female hormone imbalance with natural, biologically-friendly treatments.
A basic and foundational practice focusing on posture, breath, and alignment. A safe and supportive environment for beginners and experienced students. This class meets you where you are whether just beginning yoga or working with an injury, modifications and alignments are taught in an inspiring and encouraging way leading you to a wonderful experience of yoga. No previous experience needed.
Hatha yoga helps the practitioner focus on connecting the breath to the postures and is designed to be accessible for all levels. This class includes demonstrations of the postures and an emphasis on proper alignment and use of breath leading to a slow flow, moving fluidly from one pose to another. The focus on the breath while moving through poses will help practitioners develop and strengthen the mind-body connection. No previous experience needed.
This is an intermediate Hatha yoga practice that links movement and breath.  A vigorous practice, flowing smoothly, from one pose to the next, with the use of sun salutations and synchronized breath. The student in this class will build heat, endurance, flexibility, strength and mental focus.  (Some hatha yoga experience is recommended.)
Restorative yoga focus on gently stretching the connective tissue (fascia) through a series of holding postures for an extended period of time. Postures never require strain or struggle and are meant to provide the practitioner with a method of passive stretching and deep relaxation. Students will cultivate mindfulness as they learn how to focus their attention in the present moment while holding yoga poses in stillness for periods of time.  The focus on breath is natural rather than a guided, intentional breath pattern, resulting in the practitioner feeling relaxed yet energized after class.
Meditation can be done in a chair or seated on yoga blankets. Calm your mind, settle your body and find a softer focus to your day. Beginners to practicing meditators will benefit from this class. This class consists of a beginning breath work exercise then progresses into guided mindfulness meditation which may include mantra meditation, guided imagery, or breath counting strategies.
Yoga helps tweens and teens build the groundwork to live a healthy lifestyle in a safe and non-competitive space. It is a perfect complement to their busy academic and extracurricular schedule, connecting them with others and themselves in a fun and nurturing environment, and leaving them refreshed and ready for the outside world.  Tweens & Teens learn to coordinate breath with postures, which helps calm the mind, release tension and sharpen the memory. Yoga also increases flexibility, tones the body and teaches teens to make healthy choices in life. (Recommended ages 10-18)
Through a deep stretch, you will be guided into sustained stretching poses (yin poses), designed to support and preserve joint, bone and connective tissue health. Assisted by the use of props, you will be encouraged to relax your body and breathe to allow the pull of gravity to deepen your stretch. Yin yoga will help improve your overall mobility and range of motion, specifically in the hips, pelvis and spine.  All levels welcome.
Experience an energetic breath & movement yoga class that utilizes a flowing sequence of postures to generate heat within the body that will increase your strength, flexibility, endurance, balance, relieve stress & promote overall wellness! The teacher will first guide the students through a flow together, then, the class is given the space to move at their own pace. This Vinyasa class is for all levels; new students who are physically active, those who are interested in the fitness benefits of yoga, and for anyone who wants to jump in to a multi-level and strong practice. The class is usually accompanied by upbeat music. Temperature 75°- 85°F. For all levels.
This style of vinyasa yoga is a dynamic and challenging combination of strength, sweat and spirituality. Power Vinyasa detoxifies the body while building endurance and cultivating balance. This accessible, athletic, and flowing form of yoga will lead you to a state of transformation. Emphasizing strong balancing and standing poses it will sculpt, tone and hone all the muscles of your body while calming your mind. Within the consistency of this structured class, there are many modifications and variations that serve the needs of all experience levels. Find your edge and discover your inner strength.
Individual sessions: $60 for 60 minutes
Individual sessions package of 5: $250 (Save $50!)
Couples/Duo sessions: $80 for 60 minutes
Couples/Duo sessions package of 5: $350 (Save $50!)
Group sessions are $15 per person.
Group session packages of 5: $70
Group session packages of 10: $135